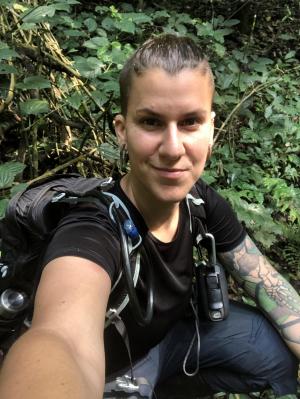 Specialization
:
Integrative Anthropological Sciences
Primate Feeding Ecology
Community and Population Ecology
Energetics and GIS
Education
:
M.A. Anthropology - UCSB (2021)
M.S. Biology - UCSD (2015)
B.S. Ecology, Behavior, and Evolution - UCSD (2013)
Bio
:
Ronnie earned her B.Sc. in Ecology, Animal Behavior, and Evolution from the University of California, San Diego (UCSD, 2013). For her M.Sc. research (2015), she collaborated with the San Diego Zoo Institute for Conservation Research to study niche partitioning in two species of rock iguanas in the Dominican Republic. At UCSB, she shifted her focus to study feeding competition among several species of primates. She developed a new method of measuring competitive pressure and its effects on red-tailed monkeys (Cercopithecus ascanius) for her M.A. (2021), and has broadened her research to include various biomarkers of energetics and geospatial analysis to look at the effects of competition on physcial condition and reproduction for the remainder of her dissertation.
Research
:
I study primate community ecology, focusing on how competition limits energy gain in several species of monkeys in Uganda (Ngogo Monkey Project). I utilize novel tools in endocrinology to analyze biomarkers of energetic processes, along with mathematical and spatial modeling, and classic ecological methods to study primate population dynamics.
Publications
:
Brown, M.; Steinitz, R.; Emery Thompson, M. (2022) Wins and losses in intergroup conflicts reflect hunger and satiation for red-tailed monkeys. Philosophical Transactions of the Royal Society B. DOI: 10.1098/rstb.2021.0152
Steinitz, R., Lemm, J. M., Pasachnik, S. A., & Kurle, C. M. (2016). Diet‐tissue stable isotope (Δ13C and Δ15N) discrimination factors for multiple tissues from terrestrial reptiles. Rapid Communications in Mass Spectrometry, 30(1), 9-21.
Courses
:
Primate Behavioral Ecology
The Study of Primates in Nature
Organismal and Evolutionary Biology 
Evolution 
Introductory Biological Anthropology
Introductory Social Anthropology
Introductory Evolutionary Psychology