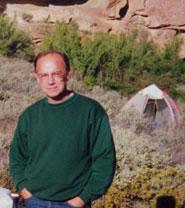 Distinguished Professor Emeritus
Specialization
:
Archaeology (archaeology, hunters-gatherers, European prehistory, archaeological method and theory)
Education
:
PhD, University of Michigan
Research
:
Research Interests
Professor Jochim has three major areas of interest:
Evolution and Ecology-particularly the relationships between micro- and macroecology and between decision-making and selective penalties and benefits.
Hunters and Gatherers-including patterns of subsistence, settlement, and land use, ideology and ideas of causation.
European Prehistory-with an emphasis on regional patterning, economic change and population movements.
Projects
:
Excavations & Survey
Kappel
The site of Kappel, discovered in 2002 and excavavted in 2003 and 2004, lies on a sand and gravel ridge complex extending out from the lakeshore in the northwest area of the Federsee.
 
 

Federsee
Beginning in 1980, subsurface surveys were conducted with trenches and augers around the Federsee, a once large lake and now a peat bog. The aim was to locate buried sites with preserved organic materials.

 
 

Survey
Beginning in 1992, surface surveys have been carried out by teams from UCSB, Oberlin College, and ASU, under the direction of Jochim, Lynn Fisher, Margaret Glass and Peter McCartney. Over 250 new sites have so far been discovered.
Publications
:
Sample Publications
The Implications of Food Exchange for Hunter-Gatherer Affluence and Complexity. In J. Uchiyama and C. Grier, eds., Beyond Affluent Foragers. Proceedings of the International Conference on Archaeozoology, Durham, England, 2002. Oxbow Books, Oxford. In press.
"Archaeology as Long-Term Ethnography." American Anthropologist 93:308-321, 1991. "Two Late Paleolithic Sites on the Federsee, South Germany" Journal of Field Archaeology 22:263-273, 1995. "Surprises, Recurring Themes and New Questions in the Study of the Late Glacial and Early Postglacial." In Humans at the End of the Ice Age: The Archaeology of the Pleistocene-Holocene Transition, edited by L. Straus et al., pp.357-364. New York: Plenum, 1996. A Hunter-Gatherer Landscape. New York: Plenum, 1998.
"The Magdalenian Colonization of Southern Germany" (with C. Herhahn & H. Starr), American Anthropologist 101:129-142, 1999.